Hey all - it's been a while since I've posted. This last month has been full of changes for me both personally and professionally. Professionally, I said good-bye to my very first character - Nate Rocks, as I closed out his series. Personally, I went through some health and other struggles. In the end, writing is what kept me sane. In the midst of it all, I decided it was time for me to shift into the world of contemporary fiction/romance after a story about three sisters came to me that I just had to tell ... and so ... The Whispered Wishes Series was born.
As of right now, I don't have a firm release date of book one: Ava's Wishes, as it's still in production, but I hope to have it available late spring/early summer. The other three books I expect to be available by the end of 2014. The characters are all itching to have their stories told! In the meantime, the fabulous Najla Qamber of NajlaQamberDesigns.com created these beautiful covers for me, and I can't wait any longer to show them off.
Oh! Two more IMPORTANT things I want to tell you -
I am publishing these and all of my contemporary fiction books going forward under the name Karen Pokras and...
I have a shiny new website now: www.karenpokras.com
So now that we got all that out of the way ... here are the fabulous covers, as well as the info about Book One: Ava's Wishes

Coming Soon: Book One: Ava's Wishes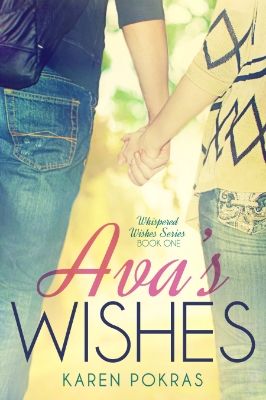 Ava Haines had big plans for her life. Her short-term goals included passing statistics (on the third try), graduating college on time, and securing a job in the art gallery on Main Street. Her long-term goal was to one day own an art gallery of her very own. Oh sure, she would someday like to fall in love and get married, but all of that was secondary to making sure her other goals were in line. Fellow student Max Wallis and esteemed photographer Thomas Malloy were just minor distractions she was more than capable of handling. She was entitled to a little fun once in a while, right? But as reality took a tumble, Ava began to wonder if she really was able to manage it all. Could all her wishes come true?

Follow Me Online:
Blog
Book covers designed by Najla Qamber Designs.
Books 1-3 - Models: Models: Courtney Boyett and Willis Totten
Book 4: Models: Courtney Boyett, Sara Beck, and Brittany Weidman
Model Photographer: Casey Boyett